REALISATION 3e DRY MORTAR INSTALLATION IN THE UK.
We can be duly proud in announcing that KEMP was awarded a contract at the end of August by Remix Dry Mortar Ltd to take on the project management to realise a 3rd dry mortar installation in the UK. With realisation of this plant, Remix expects to achieve national coverage.
This involves an installation derived from the plant that went into operation in Bristol (UK) in 2003. We also accompanied that project at the time.
In the meantime we have surveyed the construction site and worked out a site layout. The preparations for the foundation design are also in full swing, and that is also necessary given the planned delivery date in May 2008.
At the moment, the final technical details of the ultra-modern sand dryer are being discussed, after which the finishing touches can be applied to the final design.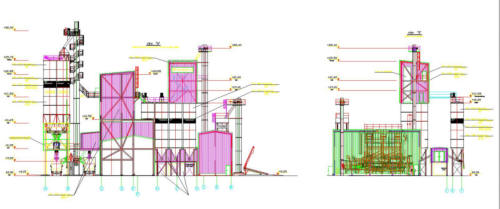 The soil investigations are currently ongoing and then design of the foundations can start.
Erection is expected to start in mid-February and take about 4 months. On start-up, KEMP will check the installation for functionality, capacity and quality. Only after intensive acceptance testing will the installation be handed over to Remix. KEMP will also provide the project management for the further work on the site, such as civil engineering, offices and warehouse.
To be able to maintain the new installation properly, Remix has opted to also have the BopV5 maintenance management package delivered by the supplier of the installation, Doubrava in Austria. By buying the package at the same time as the installation, Remix makes sure that the base files are completely filled from the outset and the package is fully operational from day one.
So in May 2008 Remix will immediately have:
Complete spare parts list per machine element
Fully digital documentation, logically broken down by machine element
Automated preventive maintenance generator
Automatic fault registration (control computer coupled with BopV5)
For Doubrava, this will be the first time they have delivered the machine documentation in this way. For Doubrava, too, this approach may deliver benefits, among other things because the improved accessibility of the documentation will mean the customer will need to call upon the Doubrava personnel less often. And BopV5 also means that one can find spare parts easily and can send an order form (or e-mail) for them to the supplier.
After the implementation in May, agreements will be made with both Remix and Doubrava about other installations. An interesting detail is that, with this order, BopV5 will be available in English as well as Dutch and German.