Hannover messe from "21 to 25 april "
The general technology trade fair, the Hanover Fair, takes place again this year in the week from 21 to 25 April 2008 inclusive. This year KEMP will be at the fair for the third time (hall 4 A04/3).
We will once again share a stand with our partner in the Euregio, LIDU, a German company that also delivers software for the producing industries.
We will be demonstrating the latest developments in the maintenance management package BopV5

.
Versus last year, there are a number of innovations to be reported:
The document management module has again been significantly upgraded, making management still more simple
A contract management module has meanwhile been added
Because this fair is a must for people interested in maintenance and technology, you'll find an admission ticket enclosed. It may seem a long way to travel, but it's worth it. And when you finally arrive at the fair, come straight to our stand. In our Euregio Café you can get into the mood for an informative day at the fair whilst enjoying a drink and a snack.
We look forward to seeing you at the fair and informing you about BopV5

, as well as the benefits of using BopV5 alongside an ERP package such as SAP. On 26th March this year we had a meeting on this subject with the Netherlands Association for Effective Maintenance (NVDO). At that meeting it became obvious that the SAP package cannot offer the same quality and flexibility for maintenance management as a specific package like BopV5

. By means of a standard interface, however, the two packages can complement each other outstandingly.
This then creates a win-win situation for the management and for the maintenance department.
With this combination you can improve the effectiveness of your management and make that visible in the financials too.
BopV5 goes international
Whilst BopV5

was already available in Dutch and German, we added French and English as languages last year. This was needed for new customers in Southern Belgium and for 3 licenses in the UK.
A new KEMP
In the meantime we've been in our new offices for a year, and things haven't stopped since we moved in. We can be proud of our order books and the whole team is working hard on filling those orders. After our offices, it was our website that needed some work and it is now active with the background information needed and current issues. There is information about KEMP, but also about BopV5

, including a brief information video.
In the future, we plan to circulate our newsletter via the Internet too so that we can keep you up to date faster and with less waste of paper.
If you would like to receive the newsletter per e-mail, please tell us using the contact form.
To promote BopV5

on the German market, we now have the address www.bopv5.de as well as our general address www.kemp-bv.nl.
Ongoing projects
At Gunnebo Doetinchem BV, a trial with a PU anti-wear pipe bend has been running since October. In the past a rubber hose was used here, which had to be replaced every three weeks. The PU hose has already been installed for more than 5 months and some 20 – 25 tonnes of dry mortar are blown through it every day.
---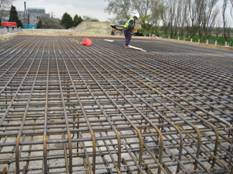 In our last newsletter we told you about a new installation in Gravesend (England). After a delay of almost 3 months due to problems with the environmental permit, the project is now in full swing. During that time, it was nonetheless decided to install a bagged goods production line as well as production of bulk goods. This increased the scope of the project still further.
This week we began pouring the foundations. The plan is to start production with the installation in October.
---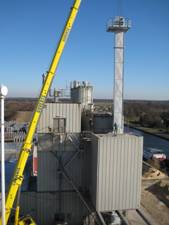 Last September, KEMP won an order to "upgrade" the production at Sakrete Droge Mortel in Hardenberg, the Netherlands. The goals of this project were:
Substantial reduction in dust (low-dust production)
Reduction in waste
Increase production from 25 to 40 tonnes per hour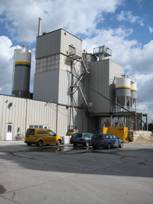 Under enormous time pressure, we succeeded in improving the sand dosage behind the mixer during the Christmas period in cooperation with machine-builders Brunink and personnel from Sakrete.
The second phase was carried out over a long weekend in mid-February, whereby the old transport hopper was replaced by an elevator in combination with self-cleaning worm conveyors.
This modification increased the capacity to a full 40 tonnes and the most serious dust and waste problems have been reduced. At the moment we are working on the final phase, whereby the number of bulk silos will be increased by 2 and the central dust extraction will be replaced by a decentralized system. The project will be delivered to the customer in mid-April.
---
Last month we also won an order to support a plant relocation in the UK, whereby a number of enhancements need to be developed and implemented. We will report on that project in the next newsletter.
With existing installations it appears easy to realise a lot with "limited means", not only in the area of production output but also in the quality area (dust and waste reduction).
Interested? Then come to Hanover or invite us to join you in a discussion on site.